Estimated Remodeling investment
Large luxury kitchen remodel
(All products are of high end, top quality) Includes full redesign, back splash/wall tile, custom built cabinets, flooring, chandeliers, appliances, heated flooring and the more. the sky is the limit.
Includes full redesign of the kitchen. H.C. custom built cabinets, all new H.C. counter tops, H.C exterior ventilated hood system, H.C. appliances, H.C flooring.
(H.C.=high quality)
Includes new design, demo out old kitchen and start new. new appliances, new cabinets with upgraded organization, new countertops, tile backsplash, layout adjustments, flooring.
Includes replacing existing cabinets with semi-custom cabinets. (Entry level= tile backsplash, countertops), re-using appliances and keeping a similar foot print.
What are some of the most common upgrades Included in a Kitchen Renovation?
When it comes to kitchen renovation, the possibilities are endless. Before hiring a professional remodeler, you need to ask yourself – do you need to change everything around the kitchen, or do you simply want to replace worn-out bits and pieces?
Regardless of the answer, Green Ladder Contractors can help! Upgrades you can do in your kitchen include:
Cabinet hardware installation;
Sink & faucet replacement;
Flooring repair & replacement;
Removing and replacing appliances;
Backsplash removal & replacement;
Drywall replacement & installation
Light fixture installation;
Painting;
Ceiling fan installation;
Custom kitchen island installation.
Are you looking for something that you can't see in the above list? Contact Green Ladder Contractors anyway! Tell us about your needs, and we will provide you with tailored solutions.
Kitchen Design
We offer do design services for your kitchen, whether you want full
3D renderings or just drafting drawings.
Dust Free!
Dust-free kitchen and bath demolitions with the use of HEPA air scrubbers
and zip wall containment units, no dust in your house and no harm to your
family's health.

Kitchen Remodeling in your budget
We do in-person selections for all floors, tile, countertops, and cabinetry, to
avoid guessing at investments and/or restricting ourselves with unrealistic
budgets. The numbers we give are actuals based on your selection in the
consultation process.
Do You Provide Kitchen Remodeling Near Me?
If you live anywhere in the Missoula area, Green Ladder Contractors can reach out to you! We are local Missoula kitchen remodelers who are always nearby, ready to provide you with second to none assistance. Just ask your neighbors! Our services have been tried, tested, and loved by many Missoula residents.
Start You

r Kitchen Remodeling In Missoula Now

Are you ready to start renovating your kitchen? No hassle needed – simply fill out the quote form, send some photos, and wait for our prompt reply! All we need from you are your contact information and the list of your kitchen remodeling needs.

We will reach back to you in a flash to talk about the details of your kitchen renovation. What's more, we will provide you with the investment estimates

 and ETA of completion, so you have full information before hiring us for the job!
A comfy Functional Kitchen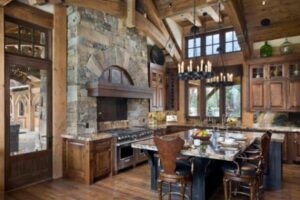 Your kitchen should be a comfortable place for both cooking and spending quality time with your family.  But if you've just bought or inherited your home, an older kitchen might not suit your needs or be as enjoyable as you want it to be.
With a full kitchen remodel, your kitchen can become an airy, open, and welcoming space with all the functionality you could ever dream of. Just imagine custom cabinets with lots of storing options, new tile and floors that brighten up the room, and the latest appliances to make your life easier.
Why Choose Green Ladder Contractors'S Kitchen Remodeling Contractors?
YEARS OF INDUSTRY KNOWLEDGE
Green Ladder Contractors's team of kitchen remodeling contractors has been working in the field for many years. Through this time, we had an opportunity to work with versatile kitchen remodel projects. This means that we have extensive industry knowledge, which allows us to provide you with a service that is tailored to your taste and needs. 
EXCELLENT COMMUNICATION 
We believe that quality service is not just defined by the construction process. Green Ladder Contractors takes pride in having great relationships with customers. We listen to your ideas and keep you informed about the details of your kitchen renovation, ensuring that your expectations are met.  
Essential Of Every Kitchen Renovation
As mentioned above, a kitchen renovation is as broad as it can get. Therefore, what you include in your project boils down to your needs, preferences, and budget. With that in mind, there are some things that should be considered in any kitchen remodeling project.
COUNTERTOP INSTALLATION
If you ask us, the countertop is one of the distinctive features of any kitchen. Because of the fact that it is the main surface used during cooking and also connected to the sink, the countertop can get severely damaged. So if you notice water damage, cracks, burns, or stains on your countertop, make sure you replace it during your kitchen remodeling. 
CABINET INSTALLATION
The first thing a person sees when entering the kitchen is kitchen cabinets. They set the tone for the whole design, so if you're renovating the kitchen thoroughly, don't forget to add installing new cabinets in your checklist. 
BACKSPLASH INSTALLATION 
The kitchen backsplash was initially designed to avert staining walls from food splatter and common kitchen liquids. But very soon, it became a piece of kitchen interior that highlights the owner's personal style. So installing a backsplash in your kitchen can be a convenient decision as well as add a unique touch to the design. 
KITCHEN FLOORING 
Green Ladder Contractors can provide you with quality kitchen flooring solutions. We can work with any flooring materials, be it tile, wood, ceramic, marble, and even concrete. What's more, our kitchen remodeling contractors will help you pick out the materials that are tailored to the overall designs as well as your requirements. 
PLUMBING 
In the newly renovated kitchen, there is no room for leaky, clogged, or damaged pipes. Green Ladder Contractors's kitchen remodeler will provide you with all the plumbing assistance you may need – from repairing damaged parts to replacing the whole system. 
LIGHTING FIXTURES
What is the purpose of hiring a professional kitchen remodeler if they can't highlight the best features of your new interior? Our kitchen remodeling contractors will ensure that lighting fixtures are distributed properly, ensuring that it makes the space wider, and more visually appealing.