Bathroom Remodel investment
extra Large-master bathroom luxury remodels
Options include heated floors, extreme detail to craftsmanship (flawless products), custom shower/steam shower, high end fixtures, jacuzzi jetted tub, top of the line flooring and wall tile custom vanities, counter tops, backlite mirrors, wainscot, any lighting of your choice, heated towel bars and more. Sky is the limit!
Includes full redesign of the bathroom, higher end flooring, vanity, counter tops, fixtures, heated floors, lighting adjustments/ ventilation adjustments, tub/ jacuzzi. Custom shower, Backlite mirrors 
Includes redesign of the bathroom, new vanity/ counter tops, all new bathroom fixtures, floor and wall tile, adjusted lighting, new toilet and tub, cabinets and mirrors.
Includes new Vanity, new sink, counter top, Vinyl/entry level tile floor/ new shower/ tub shower. Must be same layout for plumbing and electrical. Bathroom average size=6'X10'

Professional Bathroom Remodeling Contractors In Missoula
Have you decided to give your bathroom a revamp? Great! Bathroom remodeling, or any kind of renovation in your home, is always exciting and some studies say that it can even benefit our mental health. But as the old saying goes "there's a thin line between love and hate", so if you want your bathroom remodeling to bring you peace, you need to do it right.
One of the most important quests in your project is finding a reliable bathroom remodeler, someone who can understand what you want and materialize it. No need to look any further – Green Ladder Contractors is here to take on the job. We will provide you with a licensed bathroom remodel in Missoula.
Bathroom Design
We offer do design services for your bathroom, whether you want full
3D renderings or just drafting drawings.
Bathroom Remodeling In Your Budget
We do in-person selections for all floors, tile, countertops, and cabinetry, to
avoid guessing at investment amounts and/or restricting ourselves with unrealistic
budgets. The numbers we give are actuals based on your selection in the
consultation process.
Dust Free!
Dust-free kitchen and bath demolitions with the use of HEPA air scrubbers
and zip wall containment units, no dust in your house and no harm to your
family's health.
Bathroom Remodel Checklist
Bathroom remodel consists of many parts so before you get to planning, have a checklist of items you need to include in the project.
Here are some of the essentials that you might want to include in your list:
Cabinets
Sink(s)
Shower (and floor)
Tub
Toilet
Faucets
Knobs
Mirrors
Floors
Tile and grout
Drywall and cement board
Lights
Paint and primer
Exhaust fan
Vanity/countertops
Inspection/permit costs
Fixtures/furniture/decorations
Although, keep in mind that you don't have to limit yourself! There is so much more you can do with your bathroom and Green Ladder Contractors can assist at every step of the way.
Need Bathroom Remodel In Missoula?
Green Ladder Contractors is a local company that provides second to none bathroom remodel in Missoula. So if you live anywhere in the area, we got you covered! Our bathroom remodelers have extensive experience offering local residents and businesses a variety of services, including bathroom renovation.
We will arrive at your location with all the necessary tools and machinery to do every part of the project smoothly and effortlessly. What's more, being a local company gives us the advantage to know exactly where you can get the highest quality materials in the area.
Hire Bathroom Remodeler Near Me
Ready to start your bathroom remodeling project? We are waiting for you! You won't have to go through a complicated process in order to get our assistance – we like keeping things simple for you.
To request our bathroom remodeler's service all you need to do is fill out the quote form. Please ensure that you are including the correct contact information so we can reach back to you. Green Ladder Contractors will get back to you in a flash to discuss the further details of your bathroom remodel.
What To Consider For Bathroom Renovations
Before diving into bathroom renovations, it is essential to have some idea of what you need to expect and prepare for it.
Have A Plan
When you hire a bathroom remodeler you need to brief them about your requirements and clarify your expectations. If you don't do so, there is a chance that the contractor you hire won't be able to meet your expectations because they have no idea what they may be!
So take time to browse through bathroom remodel ideas so you can communicate your preferences to the bathroom remodeler.
This does not mean that you need to have every little thing predetermined. Having a general idea is more than enough for a professional bathroom remodeler. They will be able to suggest the most optimal course of action and together, you will be able to build the bathroom of your dreams.
Consider The Space
You may have dreamt about having a soothing, relaxing bathtub in your bathroom and plan to include it in the remodeling. However, not every bathroom is destined to have a statement-making bathtub and yours might be the one as well. Don't get us wrong – Green Ladder Contractors's bathroom remodelers love working on bathtubs and can provide you with top-notch installation but you also need to consider if the measurements of the room are going to take it.
Undoubtedly, a bathtub is a space-consuming addition and might make things awkward if you don't have enough space for it. This rule applies not only to bathtubs but any bathroom appliance.
The good thing is that a professional bathroom remodeler can help you make the most out of your bathroom, regardless of the space. Here at Green Ladder Contractors, we have a couple of tricks up our sleeves that we will use to make any small bathroom appear spacious.
Hire A Qualified Professional
Considering that bathroom renovation is not cheap and may cost a few thousand dollars, you want to put it in good hands. One way of ensuring that your bathroom project will come out as expected is to hire a professional that is qualified and licensed.
Being licensed means that the remodeler went through the training, passed exams, and met certain standards to obtain the qualification. Although, not every US state requires contractors to have a license so make sure you look into your state law first.
Another way of checking whether the certain bathroom remodeler is reliable is to look at the reviews. Hearing what previous customers have to say about the service they received is usually the best way of determining the company's credibility.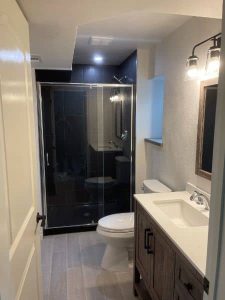 Bath Remodeling
recently installed a bathroom in a client's basement in Missoula, Mt. "Zach and his team put in a bathroom in our basement. We had a
Read More »
Bathroom Remodeler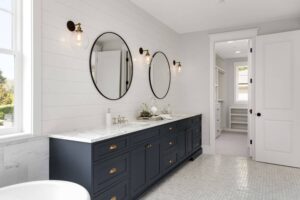 Our handymen handle your bathroom remodeling job from start to finish. Work with us for excellent installation, superb customer service, and reliable work.
Service Type: Bathroom Remodeler