Do You Offer Kitchen, Bathroom, Drywall, Home Window Repair Near Me?
Green Ladder Contractors operates everywhere in and around the Missoula area. So you can request our professional assistance without a hassle. On our part, we'll provide you with quick and professional service that exceeds your expectations.
How Do I Get Green Ladder Contractors'S Home Repair Service?
Getting our home repair services is super simple. All you need to do is fill out a quote form. Keep in mind that the more details you provide the more accurate quote we'll be able to give. Our team will reach back to you soon after you submit a request. So rest assured that your house repair project will be taken care of in no time! Alternatively, you can call us and tell us about your repair needs.
Do I Require Home Maintenance After Home Repair?
If you want to ensure that your newly repaired windows, kitchen tiles, or bathroom drywall last long, you need to step up your maintenance game. You can do simple home maintenance by yourself. However, if you need a professional's opinion for the best results, feel free to contact us. Our contractors will provide you with expert advice and help with the maintenance if required.
House Repair Services We Offer
Green Ladder Contractors team offers a wide range of house repair services. We carry versatile tools and machinery that allow us to provide you with the quality you deserve. We believe that there's no job too small, therefore, we approach each customer with care and dedication.
Home Window Repair
Windows at your house experience extensive use on a daily basis. No matter how much you paid for the materials and installation, they still require some maintenance from time to time.
The common signs that you may need a home window repair are:
The sound isolation is compromised
You're having trouble opening or closing the windows
The interior temperature fluctuates based on the weather outside
There's a noticeable humidity problem
You can see cracks in the window frame.
Fortunately, our skillful window repairman can help with these issues. We'll repair your windows at amazing investment amounts, guaranteeing that they'll serve you for a long time to come.
Bathroom Repair
Maintenance problems in bathrooms are quite common. Very often, the reason is excess moisture. However, there can be other causes as well.
The following issues indicate the immediate need for bathroom repair:
Leaking pipes, taps, or shower-head
Chipped tiles
Malfunctioning toilet
Humidity damage on the drywall ceiling.
Green Ladder Contractors will send a professional repairman to your location, equipped with all the tools needed to tackle common repair needs for your bathroom. What's more, we'll take time to inspect the whole area for potential problems that may be unnoticeable for you.
Kitchen Repair
In between homemade dishes and family gatherings, kitchen environments are taking a hit every single day. Moisture and heat produced while cooking food, alongside harsh cleaning chemicals all contribute to damaging your kitchen.
The problems you may encounter are the following:
The kitchen cabinet laminate is peeling
Broken or loose cabinet hinges
Leaking tap
Damaged sink
A countertop is falling apart
Tiles are popping out or cracking.
While these issues may be just the tip of the iceberg, rest assured that our home repair experts can help. Years of experience combined with a passion for quality work, allow us to fix every little detail in your kitchen.
Roof Repair
Are you unsure whether you should re-roof or repair your home's roof? Still have a leak or leaks after patching a location on your roof? Allow us to provide you with some relief by entrusting your home roofing repair and concerns to us. We can help with:
Shingles Replacement Services
Gutter Repair
And More!
Our experts at Green Ladder Contractors are well-versed in the ins and outs of keeping your roof in top condition. You'll save a lot of money in the long run if you repair your roof correctly the first time, and you won't have to worry about further damage or roof leaks to your home. Our roofing repair firm, Green Ladder Contractors, offers repairs and services to residents of Missoula & surrounding areas.
Why Choose Our Missoula House Repair Services?
There are hundreds of house repair companies in the US. So choosing the most trustworthy companion in your home repair and maintenance can be a bit overwhelming. However, the competition doesn't scare us as our services have benefits that make us stand out from the crowd.
Customer-Centered Service
Our team prioritizes your unique requirements. We work for each customer with a tailored approach, which is a guarantee of your satisfaction. What's more, we always consider your ideas and consult with you before making any change.
Quick Assistance
Green Ladder Contractors consists of licensed professionals who have the skills and experience that allow us to work quickly and efficiently. We respect your time and go above and beyond to finish the home repair project on time.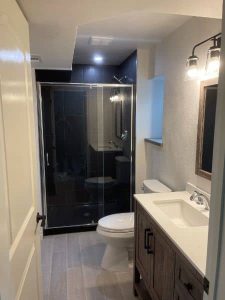 Bath Remodeling
recently installed a bathroom in a client's basement in Missoula, Mt. "Zach and his team put in a bathroom in our basement. We had a
Read More »
Home Repair Services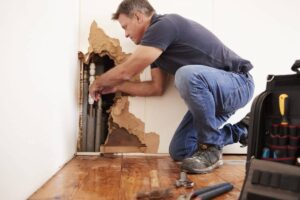 Hire our honest handyman service for all of your home repairs. We provide home repair jobs anywhere in your home. Satisfaction guaranteed.
Service Type: Home Repair Services